Group lessons for adults and children. The best way to learn to ski having fun and meeting people from all around the world.
The TOP SKI SCHOOL intends to take the children to entertain in a healthy environment in the maximum scale of security and comfort, without omitting the aspect of learning, ensured by groups to closed number (max 12). For the first time it's advisable begin the course from Sunday or Monday.
If it is your intent to entrust us the children for all the week, as security for 6 days at the sign of learning and the socialization, it will be our care to arrange also the lunch in different huts on the slopes where children will have a menu to be chosen based on the individual tastes, obviously always under the supervision of their teacher.
Where the lessons will be held
Our meeting point for lessons is the skilift of Nives in Selva di Val Gardena. With courses for beginners, we'll stay in this area specifically structured for beginners, while for advanced levels bronze, silver and gold we can explore the entire area of Val Gardena and/or the Dolomiti Superski.
EXCLUSIVE SERVICE
Free shuttle service, rental and equipment repair, our instructors' languages, online booking discounts.
FIND OUT MORE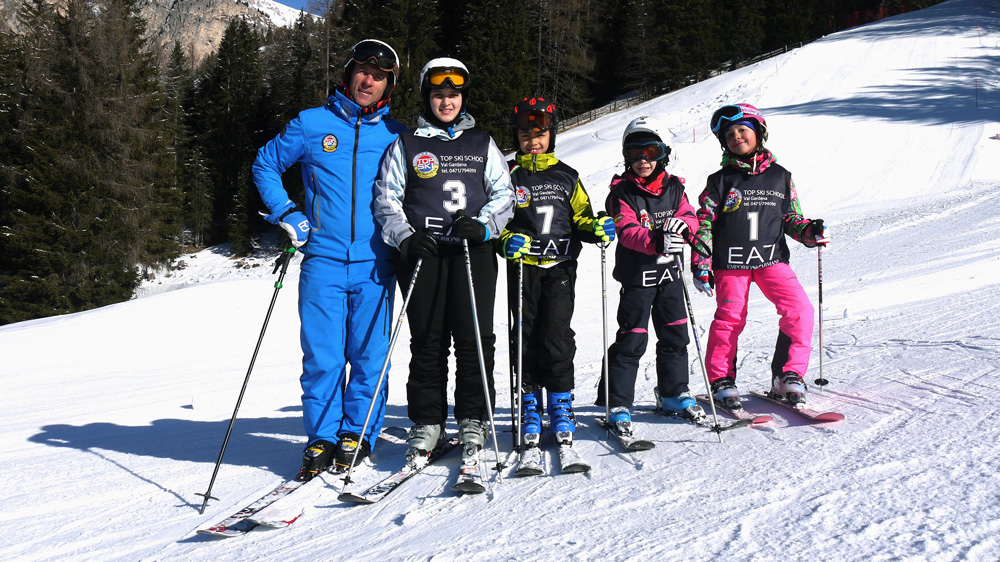 HALF DAY
Sunday – Thursday from 9:30 to 12:30
Friday until 15:30
On the last day, also, there will be a final race for your children.
HIGH SEASON


From 25/12 to 10/01 and from 05/02 to 18/03

LOW SEASON


From 27/11 to 24/12; from 11/01 to 04/02 and from 19/03 – end
1 day
95€
70€
2 days
160€
120€
3 days
209€
160€
4 days
225€
185€
5 days
248€
204€
6 days
270€
222€
FULL DAY
Sunday – Friday from 9:30 to 15:30
On the last day, also, there will be a final race for your children.
HIGH SEASON


From 20/12 to 10/01 and from 31/01 to 19/03

LOW SEASON


From 04/12 to 19/12; from 11/01 to 30/01 and from 30/03 to 03/04
1 day
115€
99€
2 days
200€
175€
3 days
268€
228€
4 days
305€
260€
5 days
351€
288€
6 days
381€
312€
BOOK NOW YOUR LESSONS
By booking online you are granted a 10% discount